For a Garden Makeover, Leave it to Our Great Gardeners
Would you like your lawn moving or your hedge trimming and pruning, or both? Our gardeners here at Home Garden really can do it all so you can count on them completely if you need professional gardening. Your garden can say a lot about your home and a lot about you as a person, as well. For this reason, you want to ensure it is looking its best at all times so that when guests come over, you won't be ashamed to show them the messy state of your overgrown garden. When guests come over, you want to be able to show off your garden with pride.
It is even more important during the summer, because guests will of course be more inclined to sit in the garden and it won't be pleasant if they have to sit looking into an unkempt garden. If your garden is becoming more and more untidy by the day, you must make a move and hire a professional company so our London gardening professionals can sort it out for you. You will find the best ones here at our company. For a free quote, call us today on 020 3540 7776 and we'll put your garden problems at bay.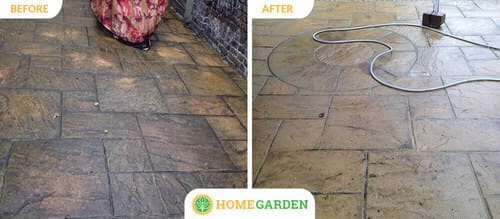 Our gardeners are highly professional with a great deal of experience and skill behind them. You can rely on them for providing you with excellent gardening services. Whatever you need, they will be able to do it. Their talent and experience, by far, makes them the best gardening experts in the area. So if you need a little help with your garden, hire us now. Nobody should have to put up with living with an ugly garden.
Prices for gardening services
Price
Workers
Additional hours
Gardening services
from £97 / visit
2 men for 2 hours
£42,00
Garden Clearance
from £97 / visit
2 men for 2 hours
£42,00
Lawn Care & Repair
from £97 / visit
2 men for 2 hours
£42,00
Tree Surgery
from £106 / hour
2 men / hour
£50,00
Landscaping
from £106 / hour
2 men / hour
£50,00
Outdoor repairs
from £106 / hour
2 men / hour
£50,00
Jet Wash
from £2.5 / sq m
Gutter Cleaning
from £12
Window cleaning
from £1
If it needs to be maintained or if you need it to look tidy again, hire our wonderful, qualified gardening professionals. They will not let you down. Each member is dedicated, motivated and hard working. Plus, they are all really friendly and helpful. So whatever you need, ask them, and they can help you. You won't find a harder working and dedicated team than this one. If gardening isn't one of your strongest talents, leave it to these guys to help you. We are literally one phone call away if you need help. Call 020 3540 7776 right now if you need our help and we promise we will not let you down. Tell us what services you need and we will be able to provide you with a fixed quote over the phone as well! So get calling us now!
Opt for Home Garden if you are looking for top gardeners to help you with gardening. There is no doubt about it, if you need high quality gardening services; we are definitely the company to choose. Our gardening experts know what they are doing and they will provide you with only the best services of the highest standard. That is because our experts make no room whatsoever for mistakes. So you are guaranteed to receive only the best services at the highest quality. What makes us such a fantastic company is because we offer brilliant services, but we don't expect our clients to pay over the odds for them simply because they are high quality. We respect our clients and we want to give them the best services ever. We want your experience with us to be excellent and nothing less than the best. Get in contact with us now on 020 3540 7776 and let us help you now! You will get a free quote if you call us today.
Their gardeners tamed a massive tree that was growing out of control, dangerously close to my house. For such a specialist service, they were remarkably cheap to hire.
The gardeners did terrifically well for me. They neatened things up, got things sorted that I honestly thought they wouldn't have a hope in hell of sorting out. Hiring them is definitely recommended.
Their gardeners did amazingly well for me in what were some pretty trying conditions. They didn't stop until everything had been completed. All the work was done to a high standard.
The gardeners I had the pleasure of meeting had an exceptional work ethic. They worked tirelessly throughout and got the massive amount of work I'd asked them to accomplish completed to a high standard. No complaints, just high praise for this company.
Show all