No More Weeding and Digging for you Thanks to our Great Garden Maintenance Service
Does your garden look far from idyllic? Are you eager for a beautiful garden but can't find the spare time in your life to even keep it maintained? It sounds as if it is time to hire professionals for professional garden maintenance. We at Home Garden have the best team of gardening professionals. They can carry out any service of your choice – whatever you want. We understand the time and effort and energy it takes to do your garden. If you work full time, have a family to run and have a list as long as your arm of domestic chores, the last thing you want is to put your last traces of energy into your garden. If you need lawn care or garden tidy ups, you can count on us to do them for you. We will not let you down. We have been carrying these excellent services for quite some time now and we never fail to impress our clients. If you would like to book a date now with us for gardening services, please just get in touch now on 020 3540 7776 . We will happily answer your questions and provide you with our full support if and when you need it.
Prices for gardening services
Price
Workers
Additional hours
Gardening services
from £97 / visit
2 men for 2 hours
£42,00
Garden Clearance
from £97 / visit
2 men for 2 hours
£42,00
Lawn Care & Repair
from £97 / visit
2 men for 2 hours
£42,00
Tree Surgery
from £106 / hour
2 men / hour
£50,00
Landscaping
from £106 / hour
2 men / hour
£50,00
Outdoor repairs
from £106 / hour
2 men / hour
£50,00
Jet Wash
from £2.5 / sq m
Gutter Cleaning
from £12
Window cleaning
from £1
Sometimes, you just cannot fit garden maintenance into your hectic schedule. If you are like most people and you have a family to look after and a job to do, it is common for there to be little time in your life for gardening. However, if you ignore your garden for a long period of time, it will definitely show in the state of your garden. It won't take long at all for your garden to start showing signs of abandonment. Weeds will be growing everywhere, the grass will be up to your knees and the plants you once planted will wilt and shrivel up.
This does not make your garden look good at all. But there is no need for things to get this far thanks to our superb gardening experts. They can help keep your garden maintained and looking good at all times. So when you look out your window, your garden will no longer cause a guilty feeling inside of you. Instead, you will see such beauty. If you'd like your grass cutting or anything else, call now on 020 3540 7776 and our experts will be right round to lend a helping hand.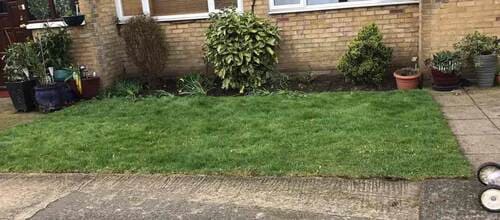 Home Garden's garden maintenance service is one of the best, to say the least. So, if you really need garden tidy ups like hedge trimming and pruning or leaf clearance, we can do it all for you and more as long as you choose no other company but us. So, you ask, what is it that makes us the best company around?
Well, that is easy: we're professional, offer high quality services and charge inexpensive prices! We are indeed the best around so don't forget it! Just call 020 3540 7776 right now and you can the idyllic garden you have always wanted right there in front of your eyes. There is no need for you to keep putting up with a messy, unkempt garden. We will send over our professional gardeners London and they can handle it all for you. Nothing is too much for them. And with their years of experience and years of training, you're putting your garden into great hands. Watch and be amazed! For more details or a free quote, please get in touch now on 020 3540 7776 and let us take care of your garden.
The garden maintenance work I hired them for was competitively priced. The team did a neat and thorough job and tidied up all of the cuttings and mess at the end of it without having to be told.
I've had their garden maintenance team around to do several garden tidy ups for me. My garden is quite large, so it was not a simple task. Their professionals always do splendidly, handle whatever's in front of them brilliantly.
I was after the same day, affordable garden maintenance service. I did my research, reached out to a number of different companies, but this was the one that stood out to me. They came up trumps for me.
I hired Home Garden to do a spot of garden maintenance for me. It was a general garden tidy up. But the work they did had a transformative effect. They made my garden look terrific. It's actually usable now!
Show all