Cubitt Town Landscape Gardeners E14
Cubitt Town gardening services can be outrageously expensive.
The prices that some lawn maintenance companies and landscape gardeners charge are so high that many people simply cannot afford to have a lawn mowing, a patio cleaning or a garden clean up for their E14 properties.
But this is not the case when you hire Home Garden. Our London landscape gardeners can rival the services of any other gardeners and will do it for far less than the competition. When you call us to enquire about any of our gardening services, you will get a free quote for your garden.
E14 Garden Design Cubitt Town
Once you know which gardening services you would like for your Cubitt Town garden, all you need to do is hire some expert landscape gardeners, right? No, this is not enough.
It is important that you call ahead and get an estimate of what the job will cost you.
Another good idea is to look for a gardening service in London which can provide you with a wide range of garden and lawn maintenance services, because you can never know what you'll need in future. And that's where we come in! For your E14 home garden, we're the right landscape gardeners to call.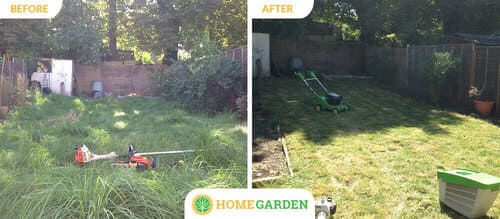 Get Valuable Help from our Landscape Gardeners in Cubitt Town, E14
You might be wondering what a garden clearance is and why you might need one for your Cubitt Town or Poplar garden.
A garden clearance is a one off service that we offer our customers to help them get rid of unwanted brush, debris, shrubbery or tree limbs.
We'll clear away anything you no longer need in your garden, so it will look as if someone has taken a magic wand to your outdoor space. Keep your plot in E18 or E2 looking fantastic year round with our lawn maintenance and garden maintenance services. Consider hiring our gardening experts today to see how great they are!
Prices for gardening services
Price
Workers
Additional hours
Gardening services
from £97 / visit
2 men for 2 hours
£42,00
Garden Clearance
from £97 / visit
2 men for 2 hours
£42,00
Lawn Care & Repair
from £97 / visit
2 men for 2 hours
£42,00
Tree Surgery
from £106 / hour
2 men / hour
£50,00
Landscaping
from £106 / hour
2 men / hour
£50,00
Outdoor repairs
from £106 / hour
2 men / hour
£50,00
Jet Wash
from £2.5 / sq m
Gutter Cleaning
from £12
Window cleaning
from £1
Landscape Gardeners in E14 with Superior Techniques
Remember as you are hauling out the lawn mower for the umpteenth time to mow your lawn in E13, E12 or E3 that there is an easier way, and it doesn't have to cost a pretty penny.
Have us out for a one off service like our fantastic lawn mowing service to see how we can get your E17,Upper Walthamstow or West Ham garden looking like you've spent every waking hour digging, weeding, trimming and mowing.
The nieghbours will be begging you for your gardening secret, and you can tell them to just ring us on 020 3540 7776 .
Landscape Gardeners in Cubitt Town born with a "Green Thumb"
As the kids go back to school and the schedule seems to get ever more hectic as the days get shorter, you may relegate tidying up the garden to the bottom of your to-do list.
Don't bother! If your Cubitt Town or West Ham garden could use a little straightening up and straightening out, our gardeners are the ones to call.
They will arrive on time, fully equipped and ready to complete whichever London garden maintenance services you need today. Ring about your E14 or E17 garden to find out more details. We're sure you'll like what you hear!
We also offer:
E14 landscape gardeners Cubitt Town
E14 garden design and landscaping
Cubitt Town landscape and garden design E14
garden landscape design Cubitt Town
E14, London
Other services we offer in Cubitt Town E14:
Garden Landscapers Cubitt Town
Garden Maintenance Cubitt Town
Gardening Cubitt Town
Landscape Gardeners Cubitt Town
Landscaping Cubitt Town
Gardeners Cubitt Town
Lawn Mowing Cubitt Town
Hedge Trimming Cubitt Town
Gardening Services Cubitt Town